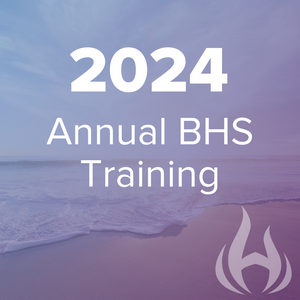 Dates: Tuesday, February 13 - Friday, February 16, 2024
Time: 9:00 AM - 5 PM Eastern time, daily
Venue: A Private Retreat in Sarasota, Florida
Price: 2,995.00

*Price includes BHS sponsored dinner (add $75 for guests)

-
Details: 
There will be a 2 hour question and answer session for new students hosted by BHS Senior Practitioners Dr. Tom Miller and Dr. Carolee Johnson on Monday afternoon, 2/12. Details forthcoming.
**If anyone has questions about whether they would qualify for this event and the process that they need to follow to get there, please email Beth directly at beth@besthealingsolutions.com
While unlikely, it is possible that the logistics of this event may need to be modified due to circumstances beyond our control, including, but not limited to, State, Federal and International travel restrictions that could be mandated related to COVID. In the event that this occurs, we will be offering the training virtually; anyone who has previously paid for the training event will have the option of receiving a full refund of their BHS purchase or transferring their payment to attend the virtual event. If you have questions please contact Tim at tim@besthealingsolutions.com.