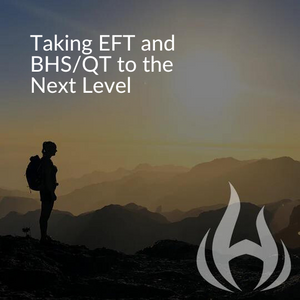 The purpose of this teleclinic series is to show you how to most effectively use this manual as a healing tool to take you to the next level of health and wellness in your life today; to show you how to find your core issues blocking your healing or the healing of others by using this manual; to use this manual as a springboard to finding deeper layers on the core issues that are blocking healing; to teach you how to create and use affirmations to support the healing process; to show you how to clear the issues that you find with codes, etc. Participant questions that came in prior to the teleclinic and during the webinar are answered. This series includes the manual from our site entitled "Taking EFT and BHS/QT to the Next Level".
Hosted by:  Beth Daniel Jones, MA, EdS & Dr. Stephen Daniel
Whats Included: 
Part 1   Duration: 77 Minutes     Includes Transcript: 16 Pages
Part 2   Duration: 81 Minutes     Includes Transcript: 19 Pages
Part 3   Duration: 88 Minutes     Includes Transcript: 23 Pages
This is a Quantum Techniques product. Quantum Techniques (QT) products are sold for personal and non-commercial use with permission.  Quantum Techniques materials are protected by copyright and other laws; all rights reserved.  Quantum Techniques disclaims any liability based on information provided by the Best Healing Solutions website.